Guide BtoB: Manage your Agenda appointments
Through the management of your agenda appointments, you have many options that allow you to personalize your calendar and then give you the possibility to coordinate efficiently your appointments on your calendar.
1) To manage your Agenda appointments, you need to click on "Settings" (1). Then, click on the "Appointments" tab (2).
2) Various options are available: the appointment duration (= the average time of each appointment); or the booking delay (cf app booking delay page).
Concerning the duration of an appointment: when you choose "The maximum duration among the selected services", it means that even if the patient has selected several types of services, the appointment duration on your calendar will be the service with the highest duration. If you choose "The sum of the selected services duration" then, when a patient will select several types of services, the duration would be the sum of all the services selected.
3) You can also add other options to broaden the number of conditions in order to book an appointment, and to frame your patient:
Need for the patient to fill his/ her ID in order to book the appointment (higher security)
Allow a patient to write a message during the booking moment represents a practical option that provides an efficient communication before the appointment, in order to give important information.
"Auto confirmed Appointments" is an option that automatically confirm the appointments booked by your patients, without asking you to confirm it.
Show a pop up information for the patient is important because it informs him/ her that there is/ are a/several conditions requested before booking an appointment.
If you just want to allow the appointments just for your "existing patients", and not for other new patients, you can activate the option "Allow appointments only from existing patients" :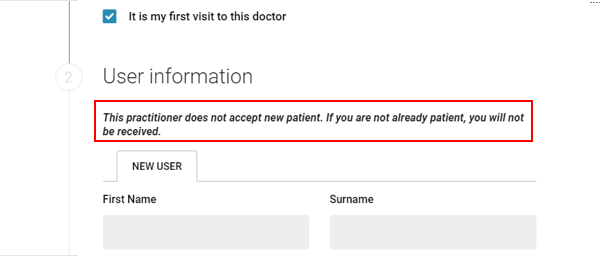 Finally, "Save" after your modification.
If you have any request, please use our chat on your online agenda.
The Doctoranytime's team.